412 Fabricated Steel Tapping Sleeves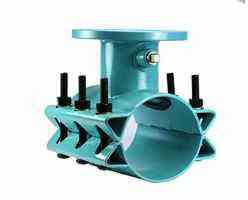 Built-in range assures proper fit on more than one class of pipe; reducing inventory requirements and alignment recesses for sleeve and tapping valve.  Comes complete with corrosion resistant, high-strength, low-alloy bolts, and eliminates the chance of not having the right size sleeve.
Ease of assembly eliminates extra equipment, time, and specially trained personnel.
Ready availability means taps can be made without long delays; even taps on special sizes of pipe or services requiring high pressure flanges.
The direct reinforcement of the pipe, by the sleeve, eliminates flexing or deflection of the pipe opposite the tap. Weighs less than heavy cast iron sleeves, which reduces the load on the pipe.
Most important, 412 Tapping Sleeves assure a safe dependable tap. A large gasket cross section provides a positive initial seal, which improves with increases in line pressure.
** Data obtained using 20 mil natural coatings. Addition of pigments may cause varying results.
Limitations - Not suitable for hydrocarbon service. Normal Service: -20° F to 160° F Immersion Service: <125°F
Special Approvals - Meets ANSI/NSF Standard 61 for potable water service. Classified by UL (Underwriters Laboratories, Inc.)
HOW TO ORDER 412 Tapping Sleeves
1. Determine O.D. of Pipe.
2. Select proper sleeve O.D. range.
3. Specify sleeve number and outlet size.
Epoxy with alloy bolts, add (E)
Epoxy with stainless steel bolts, add (ESS)
Metal primer with stainless steel bolts, add (SS)
Example: For A/C pipe with 14.21 O.D. with 6" outlet, epoxy coated with stainless bolts, order:
LARGER SIZES AND OUTLETS AVAILABLE For outlets 14" and larger, the tapping valve to be used must be specified to assure proper alignment recess dimension. 412 Tapping Sleeves furnished with test plugs unless otherwise specified. *These sizes not available with size on size outlets. For size on size outlets a 1/2" undersize shell cutter is required.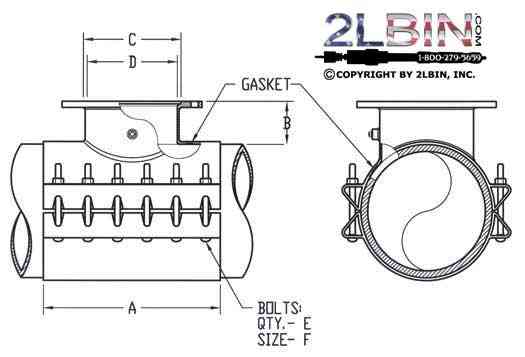 412 TAPPING SLEEVE DIMENSIONS
Flange Size*
A
B
C
D
E
F
12
5
4-1/32
3-1/2
6
3/4
12
5
5-1/32
4-1/2
6
3/4
12
5
7-1/32
*6-1/2
6
3/4
16
5-1/8
9-1/32
8-1/8
8
3/4
20
5-1/2
11-1/16
10-1/4
10
3/4
24
5-3/4
13-1/16
12-1/4
12
3/4
For outlets 14" and larger the manufacturer of the tapping valve must be specified to assure proper alignment recess dimension. Size on size tapping sleeve requires a 1/2" undersize cutter to assure proper cutter clearance and complete severance of the coupon. *On nominal pipe size 7.45 and smaller dimension D is 6-1/8". For All Stainless Steel, see 432 and 452 All Stainless Steel Tapping Sleeve.
412 Fabricated Tapping Sleeve Specifications: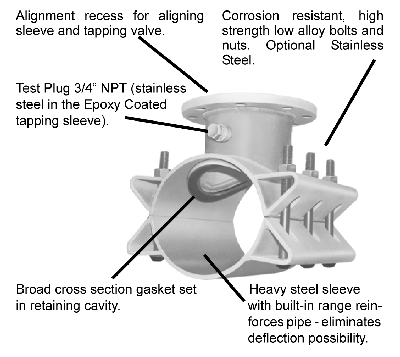 412 Tapping Sleeve Installation Instructions
* Thoroughly clean pipe surface. Check the size and range of the tapping sleeve to verify correct size product.

* Check surface where gasket will seat to make certain pipe is free of flaws, gouges and extreme irregularities.

* Lubricate pipe and face of gasket with soap-water or gasket lubricating solution. Do not use grease or pipe lubricant.

* Position outlet half of body on pipe, making sure outlet is aligned with branch line to be connected. Never position so that rotation is required.

* Position back half of body and install bolts.

* Tighten outside bolts first, working toward the center.

* Tighten bolts evenly. Alternate from one side of sleeve to the other. Tighten bolts to the following toque levels:
Pipe sizes 6" - 12" -100 ft. lbs. of torque. Pipe sizes 14" & larger -125 ft. lbs. of torque
NOTE: For test and working pressure above 250 PSI bolts must be tightened to 150 - 170 ft. lbs. of torque. (Contact for proper application.)
On Thin Wall, PVC (SDR21, 26), and Flexible Pipe 50 - 55 ft. lbs. minimum HDPE SDR11, SDR17 -6" - 12" 60 ft. lbs. minimum HDPE SDR11, SDR17 -14" and Larger 90 ft. lbs. minimum
* Check inside of sleeve neck to make certain gasket is properly seated and not protruding where tapping cutter may damage it.

* Install tapping valve. We recommend adherence to the AWWA M-44 manual for proper valve installation, support, and trenching.


* Test assembly seals using test plug provided on sleeve or test connection on tapping machine. Note: No more than 10% above line pressure on HDPE or maximum pipe working pressure rating. When assured that all seals are tight and test is completed, re-check bolt torques after 15 minutes and proceed with tapping operation.
Note: Size on size tapping cutter must not be larger than recommended by pipe manufacturer. Also, tapping operation must not force the pipe away from the gasket seal.
Service Saddle Installation Instructions
Thoroughly clean pipe surface.
Check pipe surface for irregularities.
Lubricate face of gasket.
Mount saddle body in proper position on pipe.
Install strap(s) or bolts(s).
Check to make certain gasket is in proper position and not in waterway.
Tighten nut(s) to following torque values presented in more detail in the PDF below.

Heavy Duty Torque Wrench and Extra Deep 4 Piece Socket Set
412 DOUBLE STRAP SERVICE SADDLES
*All sales final for tapping saddles sold, Prices change without notice, effective 1-1-2011
NOM. PIPE SIZE (IN.)

SLEEVE O.D. RANGE (IN.)

SLEEVE NUMBER X ANY OUTLET

OUTLET SIZES AVAILABLE

APPR. WT. EACH (LBS.)

6
6.63
6.83 - 7.16
7.05 - 7.40
7.40 - 7.73
412-0690
412-0720
412-0745
X 3
X 4
X 6
74
76
82
8
8.63
8.98 - 9.37
9.27 - 9.69
412-0905
412-0940
X 3
X 4
X 6
X 8
83
85
88
118
10
9.83 - 10.25
10.64 - 10.86
11.03 - 11.47
11.36 - 11.80
11.76 - 12.24
*412-1000
412-1075
412-1110
412-1140
412-1200
X 3
X 4
X 6
X 8
X 10
90
92
96
125
168
12
12.62 - 12.88
13.13 - 13.60
13.60 - 14.09
14.08 - 14.56


412-1275
412-1320
412-1392
412-1420

X 3
X 4
X 6
X 8
X 10
X 12
98
100
104
140
176
216
14
14.59 - 15.08
15.23 - 15.80
15.73 - 16.22
16.30 - 16.73

412-1475
412-1530
412-1600
412-1650
X 3
X 4
X 6
X 8
X 10
X 12
113
115
116
150
190
220
16
16.74 - 17.26
17.33 - 17.87
17.88 - 18.43
18.62 - 19.19

412-1684
412-1740
412-1800
412-1875

X 3
X 4
X 6
X 8
X 10
X 12
113
115
120
162
210
230
18
18.87 - 19.45
19.41 - 20.01
20.00 - 20.60
20.29 - 20.94
20.93 - 21.57
412-1920
412-1950
412-2000
412-2050
412-2130
X 3
X 4
X 6
X 8
X 10
X 12
120
122
126
180
240
245
20
21.51 - 22.15
22.16 - 22.81
22.78 - 23.45
23.46 - 24.16
24.15 - 24.85
24.82 - 25.52
412-2160
412-2254
412-2294
412-2400
412-2450
412-2502
X 3
X 4
X 6
X 8
X 10
X 12
131
133
140
185
245
255
24
25.71 - 26.41
26.55 - 27.25
27.26 - 27.96
28.14 - 28.84

412-2580
412-2715
412-2746
412-2834
X 3
X 4
X 6
X 8
X 10
X 12
143
143
160
215
280
312
30
29.78 - 30.48
30.48 - 31.18
31.52 - 32.22
412-3000
412-3075
412-3200
X 3
X 4
X 6
X 8
X 10
X 12
163
165
175
226
295
310
Leave us a Facebook Comment