Tee Off Female Thread Weld-on Branch Connection Fittings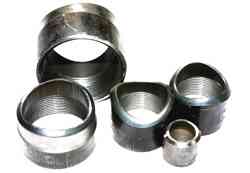 Tee Off Features:
Tee Off weld-on outlets meet the requirements of the "Buy America Act."
Tee Off weld-on outlets are designed for use with steel pipe sprinkler systems, for commercial and industrial applications.
Tee Offs are UL / ULC listed and FM approved for 300 psi fire protection sprinkler systems.
All Tee Offs are precision machined to close tolerances, to ensure a uniform, consistent fit on header pipe; eliminating gaps and providing high-quality, one-pass welds with automatic welding equipment.
Tee Off threads conform to the requirements of ANSI B1.20.1 national standard for tapered pipe threads.
Tee Offs are offered in sizes from 1/2" through 4", for use on headers from 3/4". Tee Offs are precision-machined to provide an exact, uniform fit on EACH header size, eliminating gaps which can occur when using outlets designed to "fit" a range of header sizes.
Tee Offs are ISO 9002 certified, ensuring an internationally recognized high level of quality assurance.
Material to ASTM A512 ERW tubing specifications.
Leave us a Facebook Comment