452 All Stainless Steel Tapping Sleeve with Outlet Seal Gasket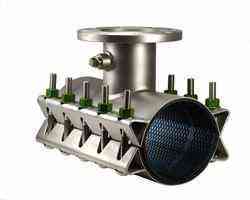 The 452 All Stainless Steel Tapping Sleeve incorporates the heavy duty design of the fabricated steel tapping sleeve with the corrosion resistance of all stainless steel. This heavy design utilizes a broad cross section, hydro-mechanical outlet gasket in lieu of the full body gasket. This outlet gasket provides a positive seal, which improves with an increase in line pressure. The 452 has been engineered for installations requiring higher working pressure, higher safety precautions, or longer service life than standard all stainless or cast iron sleeves; and is manufactured to provide superior corrosion resistance applications on mains, which are not subject to beam breaks.
Heavy all stainless tapping sleeves offer extra benefits.
All Stainless Construction - All stainless steel construction provides extra corrosion resistance. The stainless steel flange, outlet, and body join as one unit of similar metals, to assure the highest structural strength and long-term corrosion resistance. Heavy Duty Design: Heavier construction and thicker metal provide extra reinforcement of the pipe and outlet. The extra bolting power and body thickness eliminate problems inherent with lightweight sleeves.

High Pressure Capability –Exceptionally Safe - The broad, heavy, hydro-mechanical gasket provides for high-working pressure applications. They are also ideal for critical problem prone taps such as pump stations, large diameter mains, and large outlets.

Large Sizes - High Pressure -The premier sleeve for larger sizes of ductile iron, PVC, PE and steel pipe. High-pressure sleeves are available on request.

Stronger - Yet Lighter Than Cast Sleeves - Reduced weight aids in installation and handling as well as reducing load on the pipe.

Extra Wide for Support and Stability - Extra width, and heavier neck and body material, provide extra reinforcement of the outlet, and extra stability during the tapping process.

Affordable - These all stainless sleeves are surprisingly affordable in all sizes. Larger sleeves are priced less than ductile iron mechanical joint sleeves which offer less corrosion resistance and pressure capability.
452 Stainless Steel Saddle Specifications: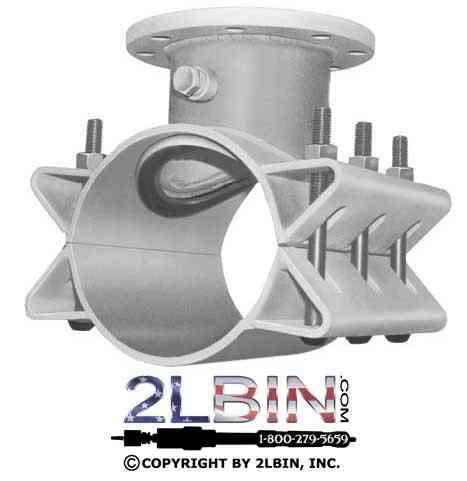 The 452 All Stainless Steel Tapping Sleeve is especially recommended for applications involving large diameters, high working pressures, and fluctuating line pressures in corrosive or acidic environments. Direct compression of the gasket provides maximum sealing capability for high or fluctuating pressures.
For pricing and engineering, the following information must be furnished:
Type of pipe
Outside diameter of pipe
Irregular or non-standard pipe characteristics
Line contents
Outlet size, (For 14" and larger, furnish manufacturer working and test pressure requirements of valve and cutter size)
Working and Test Pressure requirements
Call 1-800-279-5659 or buy it now below.
452 All Stainless Steel Tapping Sleeve - Typical Specification
Tapping Sleeve shall be of the high-pressure type, having a wide body, made of corrosion resistant 304 stainless steel, which conforms to, and reinforces the pipe. The sleeves shall have a Buna-N gasket with a hydro-mechanical activated lip, captured in a recessed groove around the outlet, replaceable stainless steel bolts (18-8 type 304), nuts, and washers. Stainless tapping sleeve shall be furnished with a 3/4" stainless steel test plug in the test outlet. Flanged outlets shall be indexed per MSS-SP60 to accept tapping valve. Tapping sleeve shall be ANSI/NSF Standard 61 Certified. Tapping Sleeve shall be 452 or an approved equivalent.
452 All Stainless Steel Tapping Sleeve - Material Specification BODY: Stainless Steel 18-8 Type 304. Optional 316 Stainless Steel. BOLTS: Stainless Steel 18-8 Type 304. Optional 316 Stainless Steel. FLANGE: CF8 Cast Stainless Steel or equivalent 304 Stainless Steel. Flange outlets shall be indexed per MSS-SP60 to accept tapping valve. Optional 316 Stainless Steel. GASKET: Compounded for use with water, salt solutions, mild acids, and bases. SERVICE RATING: 4" - 12" Outlets: 175 PSI. Service rating of 250 PSI or higher available with specified flange.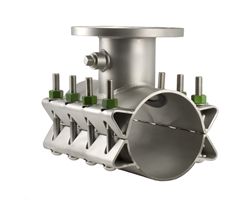 Heavy Duty Torque Wrench and Extra Deep 4 Piece Socket Set
452 All STAINLESS STEEL SERVICE SADDLES
*All sales final for tapping saddles sold, effective 1-1-2011
NOM. PIPE SIZE (IN.)

SLEEVE O.D. RANGE (IN.)

SLEEVE NUMBER X ANY OUTLET

OUTLET SIZES AVAILABLE

APPR. WT. EACH (LBS.)

4
4.50
4.80
452-0450
452-0480

X 3
X 4

32
32
6
6.63
6.83 - 7.16
7.05 - 7.40
7.40 - 7.73
452-0663
452-0690
452-0720
452-0745
X 3
X 4
X 6

74
76
82
8
8.63
8.98 - 9.37
9.27 - 9.69

452-0863
452-0905
452-0940


X 3
X 4
X 6
X 8
83
85
88
118
10
9.83 - 10.25
10.64 - 10.86
11.03 - 11.47
11.36 - 11.80
11.76 - 12.24
*452-1000
452-1075
452-1110
452-1140
452-1200
X 3
X 4
X 6
X 8
X 10
90
92
96
125
168
12
12.62 - 12.88
13.13 - 13.60
13.60 - 14.09
14.08 - 14.56


452-1275
452-1320
452-1392
452-1420

X 3
X 4
X 6
X 8
X 10
X 12
98
100
104
140
176
216
14
14.59 - 15.08
15.23 - 15.80
15.73 - 16.22
16.30 - 16.73

452-1475
452-1530
452-1600
452-1650
X 3
X 4
X 6
X 8
X 10
X 12
113
115
116
150
190
220
P. O. A. Call 2lbin 800-279-5659 or 405-745-2637
16
16.74 - 17.26
17.33 - 17.87
17.88 - 18.43
18.62 - 19.19

452-1684
452-1740
452-1800
452-1875

X 3
X 4
X 6
X 8
X 10
X 12
113
115
120
162
210
230
P. O. A. Call 2lbin 800-279-5659 or 405-745-2637
18
21.51 - 22.15
22.16 - 22.81
22.78 - 23.45
23.46 - 24.16
24.15 - 24.85
24.82 - 25.52
452-1920
452-1950
452-2000
452-2450
452-2130

X 3
X 4
X 6
X 8
X 10
X 12
120
122
126
180
240
245
P. O. A. Call 2lbin 800-279-5659 or 405-745-2637
20
21.51 - 22.15
22.16 - 22.81
22.78 - 23.45
23.46 - 24.16
24.15 - 24.85
24.82 - 25.52

452-2160
452-2254
452-2294
452-2400
452-2450
452-2502
X 3
X 4
X 6
X 8
X 10
X 12
131
133
140
185
245
255
P. O. A. Call 2lbin 800-279-5659 or 405-745-2637
24
25.71 - 26.41
26.55 - 27.25
27.26 - 27.96
28.14 - 28.84
452-2580
452-2715
452-2746
452-2834
X 3
X 4
X 6
X 8
X 10
X 12
143
143
160
215
280
312
P. O. A. Call 2lbin 800-279-5659 or 405-745-2637
30
29.78 - 30.48
30.48 - 31.18
31.52 - 32.22
452-3000
452-3075
452-3200
X 3
X 4
X 6
X 8
X 10
X 12
163
165
175
226
295
310
P. O. A. Call 2lbin 800-279-5659 or 405-745-2637

NOM. PIPE SIZE (IN.)

SLEEVE O.D. RANGE (IN.)

SLEEVE NUMBER X ANY OUTLET

OUTLET SIZES AVAILABLE

APPR. WT. EACH (LBS.)
Leave us a Facebook Comment