TPS Copper, PVC & Steel Pipe Linestop Tapping Saddle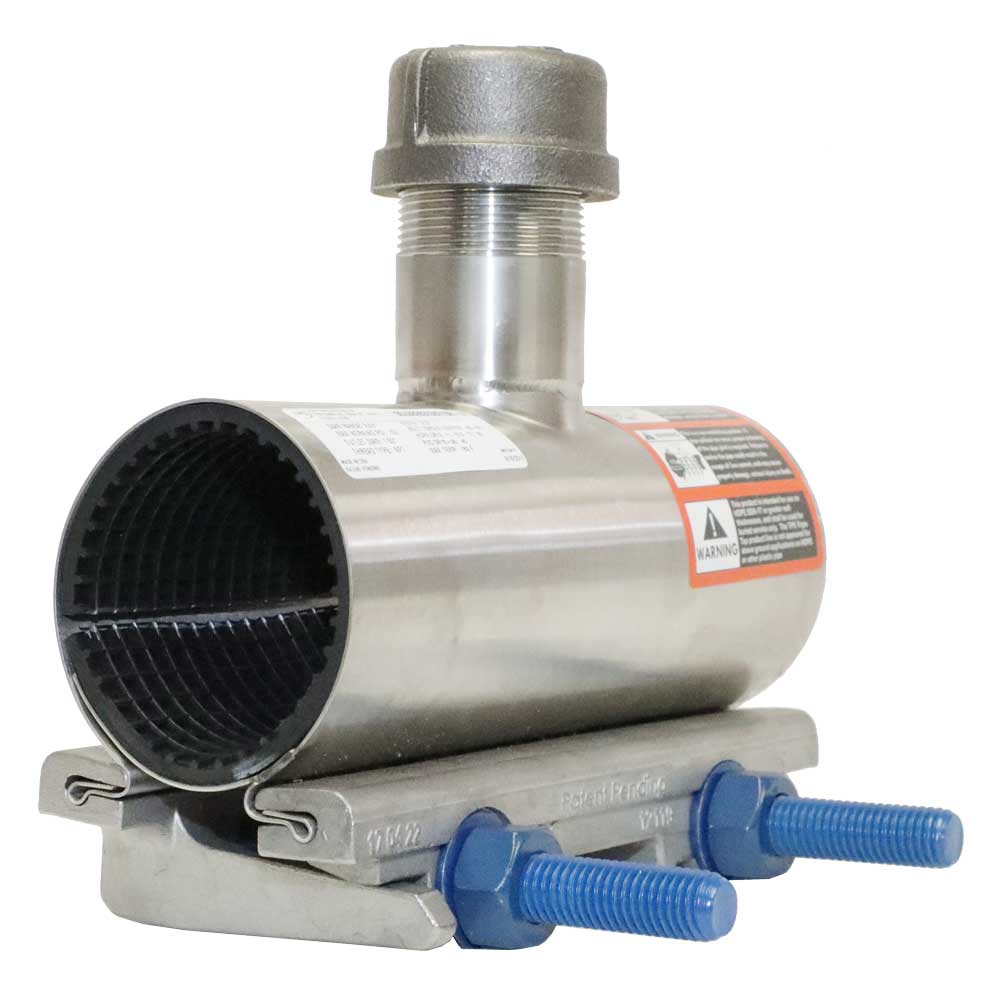 The Quick Cam® Line Stop Fitting is the newest in our series of innovative products that are designed to save time, labor and inventory dollars in the water and wastewater piping industries.
The Quick Cam® includes numerous features to assist industrial tapping and line stopping companies when performing industrial and institutional line stops. The Quick Cam® Line Stop Fitting exceeds all industry standards, including AWWA C800, and is built to accommodate copper and steel pipe diameters on all pipe materials.
Since the Quick Cam® Line Stop Fitting is equipped with a unique slide-on-slide-off lug system, it is well suited for use in tight workspace conditions. The heavy duty cast lug is equipped with an integrated handle and thumb-hold that allows it to be easily carried, mounted and tightened to the pipe in just about any close space situation. This product provides a user-friendly system, that reduces installation time and effort. Moreover, the outlet design features a stronger spin-extruded branch with higher strength welds to resist the stresses and strains of tapping, stopping and completion of the installation.
Patents have been applied for this unique lug system.
Made in the USA
Saddles are designed for QT style line stop machines
TPS QuickCam Saddle Installation Instructions and Specs.pdf
TPS Saddle Submittal Drawing.pdf
Copper, PVC & Steel Linestop Saddle Specifications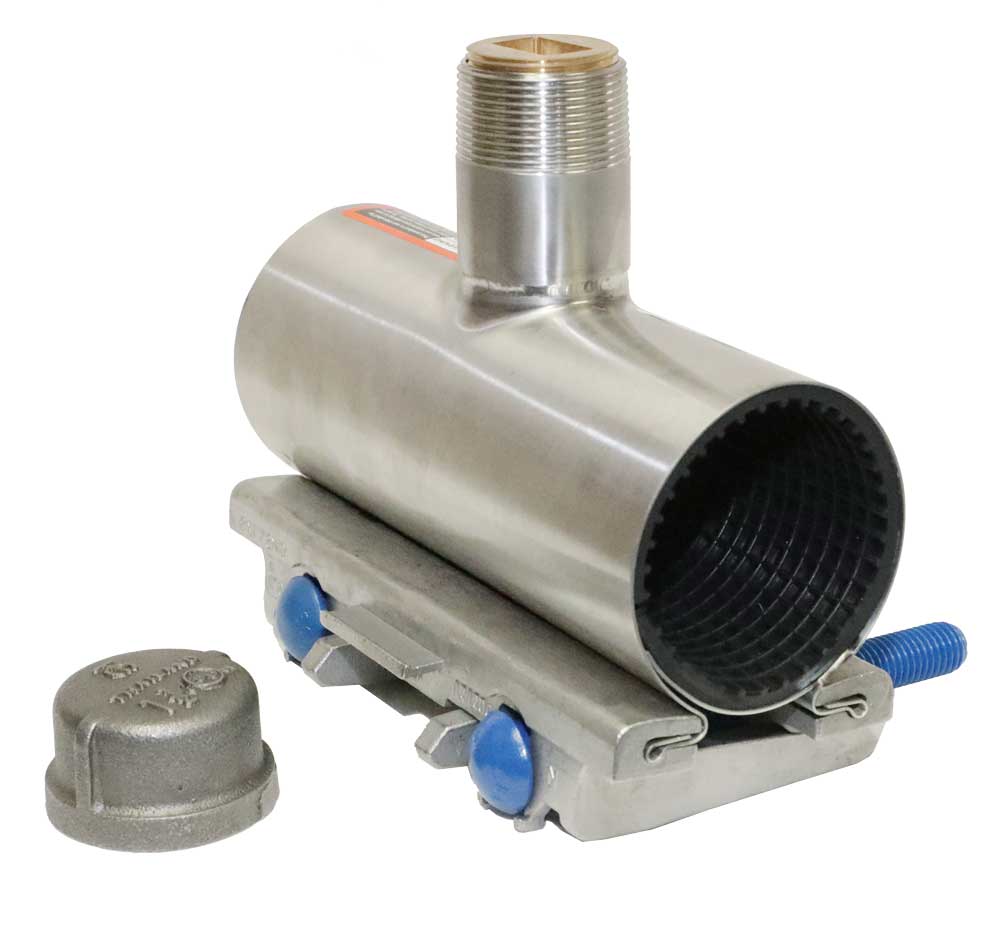 Diameter Sizes: 3/4, 1, 1 1/4, 1 1/2, 2, 2 1/2 ,3 ,4
Pressure Rating: Up to 150 PSI Maximum Working Pressure depending on diameter. Call factory for additional information (Test Pressures up to 300 PSI)
Temperature Rating: Maximum Continuous Working Temperature range of 212 Degrees F.
Gasketing: NBR temperature rated to 180° F. or EPDM temperature rated to 212° F. working temperature
Shell: Heavy Duty 20 gauge band (depending on diameter) of Type 304, 18-8 Stainless Steel, Fully Passivated for Corrosion Protection
Spanner: Heavy Duty 16 or 18 gauge Type 304 18-8 Stainless
Alignment Lugs: Heavy Duty Cast Type 304, 18-8 Stainless Steel with an easy "P" slotted slide on slide off assembly
Branch Connections: Type 304 18-8 Stainless Steel Thread-0-Lets available in 3/4" to 4" in diameter (NPT Thread Pitch)
Completion Plug: Brass, Stainless Steel or Carbon Steel with "O" Ring Seal where needed
Optional Completion Cap: Ductile iron material unless otherwise specified
Bolts/Washers: Type 304 Stainless steel, Bolt threads 5/8" Rolled, coated with Fluoropolymer Coating to prevent galling
Nuts: Type 316 Stainless Steel coated with Fluoropolymer Coating to prevent galling
Body 100% Insulated from Ductile Iron
Patent Pending Cam Lug Fingers for Extended Range
NOTE: Product Pressure, Temperature and Bolt Torque can vary depending on Product Diameter, Type of Connection, Line Content and Pipe Material Being Utilized. (Refer to Product Label for Details)
NOTE: The Pressure Rating, Temperature and Bolt Torque shown on product label are the actual ratings of the particular product
NOTE: The TPS saddles compare to the 499 saddle version

Heavy Duty Torque Wrench and Extra Deep 4 Piece Socket Set
Bolt-on EPDM Gasket Linestop Saddles for Copper Pipe

Size (inches)

CTS O.D
Item #

Price

3/4 x 3/4

.88"
QCLS-0088-075-22DR-QT

$570.77

1 x 3/4

1.13"
QCLS-0113-075-22DR-QT

$572.37

1-1/4 x 1-1/4

1.38"
QCLS-0138-125-22DR-QT

$622.43

1-1/2 x 1-1/4

1.63"
QCLS-0163-125-22DR-QT

$622.43

1 1/2 x 1-1/2

1.63"
QCLS-0163-150-22DR-QT

$678.67

2 x 1-1/2

2.13"
QCLS-0213-150-22DR-QT

$679.59

2 1/2 x 1 1/2

2.63"
QCLS-0263-150-22DR-QT

$685.03

3 x 3

3.13"
QCLS-0313-300-22DR-QT

$1,066.85

4 x 3

4.13"
QCLS-0413-300-22DR-QT

$1,409.09

Bolt-on BUNA Gasket Linestop Saddles for Copper Pipe
Size (inches)
Item #
Price

3/4 x 3/4

.88"
QCLS-0088-075-22DR-QT

$570.77

1 x 3/4

1.13"
QCLS-0113-075-21DR-QT

$572.37

1-1/4 x 1-1/4

1.38"
QCLS-0138-125-21DR-QT

$622.43

1-1/2 x 1-1/4

1.63"
QCLS-0163-125-21DR-QT

$622.43

1 1/2 x 1-1/2

1.63"
QCLS-0163-150-21DR-QT

$678.67

2 x 1-1/2

2.13"
QCLS-0213-150-21DR-QT

$679.59

2 1/2 x 1 1/2

2.63"
QCLS-0263-150-21DR-QT

$691.91

3 x 3

3.13"
QCLS-0313-300-21DR-QT

$1,066.85

4 x 3

4.13"
QCLS-0413-300-21DR-QT

$1,422.19

Bolt-on EPDM Gasket Linestop Saddles for PVC and Steel Pipe

Size (inches)

CTS O.D
Item #

Price

3/4 x 3/4

1.05"
QCLS-0105-075-22DR-QT

$570.77

1 x 3/4

1.32"
QCLS-0132-075-22DR-QT

$572.37

1-1/4 x 1-1/4

1.66"
QCLS-0166-125-22DR-QT

$622.43

1-1/2 x 1-1/4

1.90"
QCLS-0190-125-22DR-QT

$622.43

1 1/2 x 1-1/2

1.90"
QCLS-0190-150-22DR-QT

$678.67

2 x 1-1/2

2.38"
QCLS-0238-150-22DR-QT

$679.59

2 1/2 x 1 1/2

2.88"
QCLS-0288-150-22DR-QT

$691.91

3 x 3

3.50"
QCLS-0350-300-22DR-QT

$1,066.85

4 x 3

4.50"
QCLS-0450-300-22DR-QT

$1,422.19

Bolt-on BUNA Gasket Linestop Saddles for PVC and Steel Pipe
Size (inches)
Item #
Price

3/4 x 3/4

1.05"
QCLS-0105-075-22DR-QT

$570.77

1 x 3/4

1.32"
QCLS-0132-075-21DR-QT

$572.37

1-1/4 x 1-1/4

1.66"
QCLS-0166-125-21DR-QT

$622.43

1-1/2 x 1-1/4

1.90"
QCLS-0190-125-21DR-QT

$622.43

1 1/2 x 1-1/2

1.90"
QCLS-0190-150-21DR-QT

$678.67

2 x 1-1/2

2.38"
QCLS-0238-150-21DR-QT

$679.59

2 1/2 x 1 1/2

2.88"
QCLS-0288-150-21DR-QT

$691.91

3 x 3

3.50"
QCLS-0350-300-21DR-QT

$1,066.85

4 x 3

4.50"
QCLS-0450-300-21DR-QT

$1,422.19
Leave us a Facebook Comment