Class 150 Pinstyle Completion Plugs

4" - 60" 150 psi working Pressure
Flange – Completion Plug – O-ring – Set-pins & Dry plugs
Flange - Forged steel weld neck ANSI Class E 150lb Drilled
O-Ring - Buna-N for use with Water, Sewage & Natural Gas
Set Pins - ASTM-F-912 Alloy steel heat treated Cl 3a thread fit
Rockwell Hardness C-45-53, conforms to ASME/ANSI B-18.3.
PDF SPEC SHEET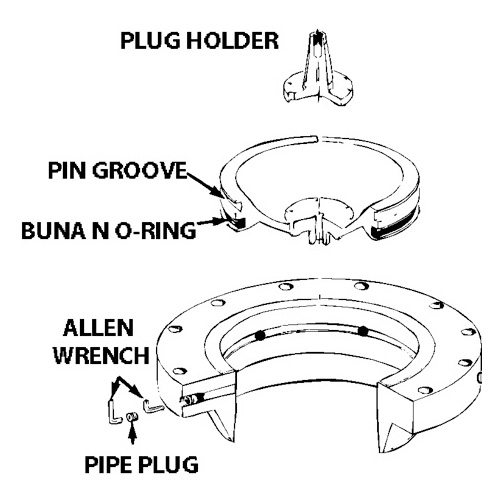 Click the image to increase the size.
Completion Plug Holder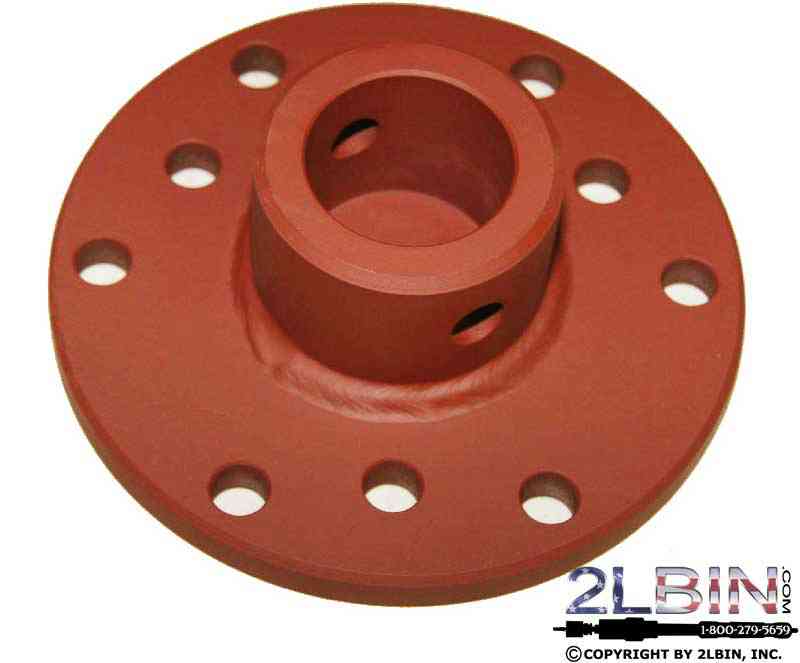 Completion Plugs: Completion Flanges and Plugs come in many styles. These are used to allow removal of the temporary Linestop Valve after work is completed so the valves can be used on the next project. Blind flanges are left at the Linestop® location and can be removed and re-stopped at a future date.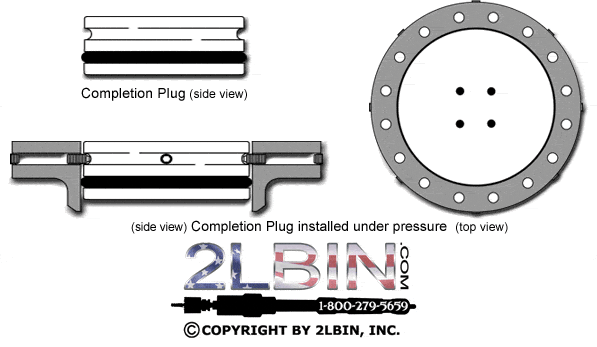 PDF SPEC SHEET

Push Style Linestop Flanges & Plugs Complete

Size (inches)

Item #

Price

6" Complete Assembly

LSC-06-150

$699.00

8" Complete Assembly

LSC-08-150

$899.00

10" Complete Assembly

LSC-10-150

$1,125.00

12" Complete Assembly

LSC-12-150

$1,375.00

14" Complete Assembly

LSC-14-150

$1,700.00

16" Complete Assembly

LSC-16-150

$1,998.00

18" Complete Assembly

LSC-18-150

$2,228.00

20" Complete Assembly

LSC-20-150

$2,625.00

24" Complete Assembly

LSC-24-150

$3,232.00

30" Complete Assembly

LSC-30-150

$4,015.00

36" Complete Assembly

LSC-36-150

$5,540.00




 Flange

Forged steel weld neck ANSI Class E 150lb drilled
4"-60" 150 PSI working pressure
ASME B16.5

Push Style Linestop Flanges & Pins Only
Size (inches)
Item #
Price

6" Flange & Pins Only

LSF-06-150

$375.00

8" Flange & Pins Only

LSF-08-150

$469.00

10" Flange & Pins Only

LSF-10-150

$585.00

12" Flange & Pins Only

LSF-12-150

$710.00

14" Flange & Pins Only

LSF-14-150

$895.00

16" Flange & Pins Only

LSF-16-150

$1,099.00

18" Flange & Pins Only

LSF-18-150

$1,200.00

20" Flange & Pins Only

LSF-20-150

$1,467.00

24" Flange & Pins Only

LSF-24-150

$1,846.00

30" Flange & Pins Only

LSF-30-150

$2,156.00

36" Flange & Pins Only

LSF-36-150

$3,215.00




 Completion Plug

ASTM A36 plate is low carbon steel that exhibits good strength.
A36 steel plate has an ultimate tensile strength of 58,000–80,000 psi.
Maintains ultimate strength up to 650 °F.

Push Style Completion Plugs & O-Ring Only
Size (inches)
Item #
Price

6" Plug & O-Ring Only

LSP-06-150

$415.00

8" Plug & O-Ring Only

LSP-08-150

$535.00

10" Plug & O-Ring Only

LSP-10-150

$630.00

12" Plug & O-Ring Only

LSP-12-150

$735.00

14" Plug & O-Ring Only

LSP-14-150

$890.00

16" Plug & O-Ring Only

LSP-16-150

$998.00

18" Plug & O-Ring Only

LSP-18-150

$1,137.00

20" Plug & O-Ring Only

LSP-20-150

$1,289.00

24" Plug & O-Ring Only

LSP-24-150

$1,549.00

30" Plug & O-Ring Only

LSP-30-150

$2,059.00

36" Plug & O-Ring Only

LSP-36-150

$2,604.00




O-Ring

Heat resistance Up to 212°F (100°C) with shorter life at 250°F (121°C).
Cold flexibility between –30°F and –70°F (–34°C and –57°C). Depending on individual compound.
Chemical resistance aliphatic hydrocarbons (propane, butane, petroleum oil, mineral oil and grease, diesel fuel, fuel oils) and vegetable oil.

Replacement O-Ring
Size (inches)
Item #
Price

6" O-Ring

LSRNG-06

$18.00

8" O-Ring

LSRNG-08

$20.00

10" O-Ring

LSRNG-10

$24.00

12" O-Ring

LSRNG-12

$28.00

14" O-Ring

LSRNG-14

$34.00

16" O-Ring

LSRNG-16

$39.00

18" O-Ring

LSRNG-18

$44.00

20" O-Ring

LSRNG-20

$49.00

24" O-Ring

LSRNG-24

$59.00

30" O-Ring

LSRNG-30

$75.00

36" O-Ring

LSRNG-36

$90.00




Set-Pins

Black-Oxide Alloy Steel has a thin edge that digs into hard surfaces for a secure hold.
Resist corrosion
Rockwell C45, ASME B18.3, ASTM F912.
Headless right hand coarse thread.
5/8"-11 thread size, 1-½" OAL, 5/16" Hex style drive. (6"-12")
3/4"-10 thread size, 2" OAL, 3/8" Hex styles drive. (14"-36")

Inner Set Pins
Size (inches)
Item #
Price

Small Inners 5/8"

PSI-4-12

$6.50

Large Inners 3/4"

PSI-14-36

$9.87




Dry Plugs

Galvanized steel with good corrosion resistance.
150-psi max at 350°F, can be used for steam.
1/2" NPT plug, 5/8" OAL, 3/8" Hex style drive. (6"-12")
3/4" NPT plug, 5/8" OAL, 9/16" Hex style drive. (14"-36")

Outer Set Pins
Size (inches)
Item #
Price

Small Outers 5/8"

PSO-4-12

$2.90

Large Outers 3/4"

PSO-14-36

$5.20
Leave us a Facebook Comment